CURRENT STATUS: Playing as much No Man's Sky as physically possible.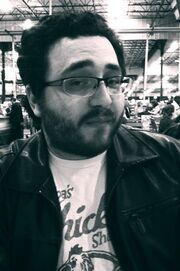 Somarinoa is the founder of Creativity Wiki, being a firm believer in imagination; as well as the founder of Extraterrestrial Fanon Wiki here as a sister site to ASW; and All Species Wiki. He is also known as ~gokou-sama on deviantART, where he is decently-known for his Ultimate Showdown game project. He is the bureaucrat of Alien Species Wiki after having brought it back single-handedly from death in 2006 until people took notice and turned it into a thriving wikia as well as on Earth Defense Force Wiki Super DBZ Fanon, and serves as an administrator on Cryptid Wiki, Egyptian Fanon, Mega Man Fanon, Ultimate Showdown (a fan-created wiki intended for a trio of his games, though not for everything he has created) and Ultra Dragon Ball. He is also a moderator on Sagan 4, a chat moderator & rollback on Bulletstorm Wiki, a rollback on Supreme Dragon Ball Wiki and Might & Magic Wiki, was the main content contributor to SporeWiki and significantly helped out Conker Wiki and Zim Wiki in the past. Beyond this, he notably helped out the wikis for Of Orcs and Men, Primal Carnage and Starbound before their games were released.
He is also a bit of a (benevolent) grammar Nazi.
Favorite Pages
[
]
Personal badge progress
[
]
And One More Thing: (9/10)
Wiki Planner (5): (1659/1750)
Curator (3): (1480/1500)
Wiki Expert (2): (1475/1500)
Revenge of the Sith: (13/25)
Grox: (215/250)
Emperor of Imagination: (380/500)
Saturnian: (96/100)
Empress: (510/1000)
President: (231/250)
Alpha Metroid: (6/10)
Populator of Galaxies: (200/250)
Super Saiyan 4: (110/250)
Quarian: (22/25)
Synopsis Simpleton:(3/5)
List of frequented wikias
[
]
A currently-growing list of all the wikias I do or have contributed to in the past or present.
SporeWiki (First appearance)
Alien Species Wiki (Second appearance)
Active usage
[
]
All Species Wiki (Founder)
Creativity Wiki (Founder)
Extraterrestrial Fanon Wiki (Founder)
Inactive usage
[
]
Personal goals
[
]
Add characters to add for achievement existence

Dragon Ball Character: Ticholla
Halo Character:

Sergeant Thor-444

Invader ZIM Character:

Invader Slurp

or

Darth Skweez

Mass Effect Character: Lucrecia Shepard
Men in Black Character: No created characters available
Star Trek Character: No created characters available
StarCraft Character:

Zerg Instigator

Stargate Character: No created characters available

Add my various galactic pet species
Add non-sapient species with information elsewhere

Curlworm

Deadly Long Legs

Elistiles

Eomurp

Fales

Falsequill Sauceback

Finear Ghastchomp

Flont

Geistrat

Gloh

Graceful Dasher

Graplurchin

Greemlo

Haifeiv

Hiiv

Horned Trimbler

Horror

Horroroque

Howhigh Mouthslapper

Hydenzeeke

Iimhur

Jadenzi

Jexxus

Jurakk

Kaningh

Karlets

Kbeiz

Kcleek

Kdahla

Keolu

Kfa

Kfaux

Kgolo

Khala

King of Swimmers

Kium

Kjorh

Klaudy

Klee

Kmaun

Knis

Kopp

Kponio

Krunjj

Landflailer

Launchpad

Leaning Towercrusta

Lieutenant Lovehandles

Llup

Lush Xarnivore

Maritime Shockshell

Martyr

Megaorthoceros circumorphos

Megaorthoceros segnoneustes

Moongazer

Mouett

Neolox

Orl

Piscipraxx

Protojadenzi

Purring Creeper

Pyaventrapper

Razorfly

Roalch

Scarfer

Scribblebeast

Setapin

Shorthorn Gulper

Sinbeast

Slayer Xenomorph

Sludgehocker

Snowpraxx

Soleopte

Sook

Squiidaunt

Swarmhunter

Taigapin

Tako

Tove

Trowelhorn Gulper

Ualla

Vandroutine

Ventrapper

Vrennum

Vrott

Warverine

Whorlhunter

Xxeltrapper

Yosei

Add my various sapient species
Add the member races of the Chaos Legions

[

]
Chaos Dragoon

Chaos Elemental

Darktooth

Digester

Diimon

Jaw Diimon

Trailblazer
Add the member races of the Iskian Empire

[

]
Hatmandu

Lubyum

Nowiss

Quok

Surrpenssa

Uu'taeris

Yimra

Zhor

Zymphala
Add the member races of the UFCL (United Federation of Celestial Lifeforms)

[

]
Commati

Einjel

Enjelic

Klenxixian

Lizui

Olfactite

Paragra

Spelban

Terran

Xixixian
Add my various planets
[
]
Ailosis

Attos

Audette

Avyari

Balas

Bezzmol

Centralis

Ciitarkia

Daung

Desilla

Diabolom

Diakatan

Ehroendus

Exilus

Frenzul

Ghandee

Gorgeon

Grellius

Gwoblob

Haven

Hush

Iska

Jhedda

Karabos

Kollox

Kyisziq

Lapyss

Lazh

Lingua

Lunassius

Miicraxxus

Moqua

Myschevaun

Naydes

Nhizilius

Nier

Nobos

Novakk

Oshku

Phion

Phottos

Phynbov

Podunkle

Pyrenovana

Quadrotessa

Quaramark

Ramas

Rastafar

Rhaonii

Scarus

Sesamus

Shade

Simuliovar

Skozarius

Skriitaxxus

Skoriboro

Solleston

Splentro

Ssulrrassa

Surpraxxia

Syrillia

Tayleshus

Tlis

Tropha

Tuchiol

Undulla

Undyrlundh

Vega

Vexillo

Zalkore

Zeigoht

Zharkul

Zhvrrrmraug

Zugga