Audron
General Information
Creator
Somarinoa
Alternate Names
Tromin IV
Planet Type
Planet
Universal Location
Universe
Main Universe
Amalgam Universe
Galaxy
Kyklos Galaxy
System
Tromin System
Position
4th
Orbital Characteristics
Satellites
0
Physical Characteristics
Atmosphere
Geography
Terra-Score
T0
Terrain Hue
Fuschia
Liquid Hue
Slate Gray
Water Percentage
25% (locked in ice)
Sapients
None
Wildlife
Lifeless
Vegetation
Lifeless
Political Information
Affiliation
Zavakku Empire
Strategic Information
Economic Value
None
Planetary Income
N/A
Expenses
N/A
Strategic Value
Planet in the Zavakku home system
Production Value
None
Valuable To
Zavakku Empire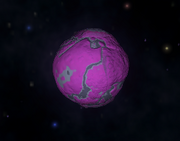 Audron (/ɑːdrɑːn/) is the fourth planet in the Tromin system. Because of the current Zavvaku strategy of claiming other planetary systems before some other race may do the same thing, the world has been barely even explored by the Zavvaku Empire's starship, the Price Gouger. As such, it is currently of very minimal value to the Zavvaku, although this will likely change at some point in the future, when they feel comfortable that they possess enough planetary systems to compete with other local sapient races.
Etymology
Edit
Community content is available under
CC-BY-SA
unless otherwise noted.